PULL UP BANNERS - BANNER BUG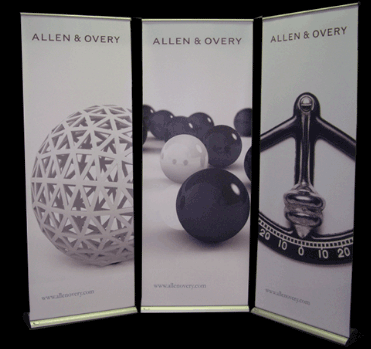 BannerBug® is Australia's favourite pull up banner stand. There are many reasons for the huge popularity of the Banner bug pull up banner brand. These really become evident when you use them and you experience the quality of the build and the smooth operation of the mechanism and the overall feel of the product. Around the world there are few close comparisons on the quality and longevity BannerBug® offers.
​
BannerBug's longevity , reliability and ease of use is what allows a lifetime warranty provided with every Banner Bug unit.
BannerBug's come in a range of sizes widths 850mm, 1000mm, 1200mm, 1500mm,1800mm, 2400mm and 2900mm x 2175mm High
As a standard BannerBugs are supplied with a luxury padded bag which will protect the BannerBug® stand against most rough handling . There is also the option of a hard case which is a great solution for your BannerBug® should you undertake a heavy amount of third party freight and comes with wheels.
BannerBug® is Australian Made
BannerBug® Graphics
Ideally we would require a print ready pdf file with embedded fonts and colours set up in either Pantone C (Coated) or CMYK colour formats.
Images at a minimum of 150dpi - we will naturally check your file ahead of printing for any issues.
Please provide a brand/style guide if you have one.
Alternatively we can produce your artwork for you and with Banner Bug we offer a full set up which includes a logo redraw service. Ideally to produce your Banner Bug artwork we would require all of the artwork elements you would like to appear photographic images, vector files , i.e logos and illustrations etc.
If you can provide a rough sketch or word document showing the desired layout along with any textual content that needs to be shown.
We will be able to put together a draft layout for your approval. If you are not ready to approve the artwork we can make changes until you are satisfied and then we will go to print.
​Send your artwork files
Delivery - Lead time Please allow 5-7 working days for delivery to all state capital metro areas.
​
Freight is included in the below listed prices.
Discounts apply on multiple purchases.
​
​
We also provide a BannerBug® refit service - Please request a quotation for this service.
BBUG - 850/D BannerBug® Pull Up Banner 850mm (w) x 2200mm (h) $399.00 - (Double Sided $ 579.00)

BBUG - 1000/D BannerBug® Pull Up Banner 1000mm (w) x 2200mm (h) $469.00 - (Double Sided $ 739.00)

BBUG - 1200/D BannerBug® Pull Up Banner 1200mm (w) x 2200mm (h) $669.00 - (Double Sided $ 839.00)

BBUG - 1500/D BannerBug® Pull Up Banner 1500mm (w) x 2200mm (h) $839.00


BBUG - 1800 BannerBug® Pull Up Banner 1800mm (w) x 2200mm (h) $999.00

BBUG - 2400 BannerBug® Pull Up Banner 2400mm (w) x 2200mm (h) $1299.00

BBUG - 3000 BannerBug® Pull Up Banner 2900mm (w) x 2200mm (h) $1560.00